Swimming Pool Construction Company Dubai
Specialized Swimming Pool Company in Dubai 
Living acre is one of the best swimming pool construction companies in Dubai that provides you with bespoke swimming pool design, construction and maintenance. With the help of our in-house architect, we can turn your dream swimming pool into a visual reality. Whether it is a new swimming pool project or refurbishment of an existing pool, we provide personal service that is tailor-made to your requirements.
Living acre is one of the best swimming pool contractors in Dubai, that has been designing and installing innovative custom swimming pools of different shapes including but not limited to the rectangle, Lagoon, Roman End, Double Roman End, Kidney, Oasis, oval, and many shapes throughout the Emirate.
Swimming Pool Construction Company in Dubai
Livingacre is the top rated Swimming Pool design and construction company in Dubai, UAE. As a leading swimming pool and landscaping company in Dubai, we have constructed several customized swimming pools for our clients in Dubai and nearby in the last 10 years. We offer you the best quality pool building services for residential and commercial needs. We offers best quality swimming pool services include pool designing, construction, cleaning and maintenance.
As a reputable swimming pool construction company in Dubai, we know what our clients expect from us. We try to fulfill all their expectations with complete satisfaction. Our team works till the clients are fully satisfied. The thing is we are ready to redo but not disappoint our clients at any cost. We respect every feedback shared by our clients and make sure to implement suggestions in upcoming projects.
Best Swimming Pool Contractors 
A swimming pool in the outdoor living area has always been many people's ideal dream, taking a dip or swim whenever they want. But before you can make your private pool dreams come true, there are some choices to be made, one of the first steps you need to take is to decide what type of pool you would like, and which style would be best suited to your home and to your own specific needs. While we, as the best swimming pool construction company, can offer you advice and guidance as to which pool could be best suited to your property. It really is a case of personal choice and finding the perfect pool that looks great in your space, is functional for all the family, and fits into your budget and that's the reason we have been known as the best swimming pool company in Dubai.
We are specialized in various styles of pools; Skimmer, Overflow, Infinity, and Pool with Glass walls.
If you want your swimming pool to be the best, hire the best pool construction company, i.e. Living Acre.
swimming pool construction company, swimming pool construction company in dubai, swimming pool construction companies, swimming pool construction companies in Dubai,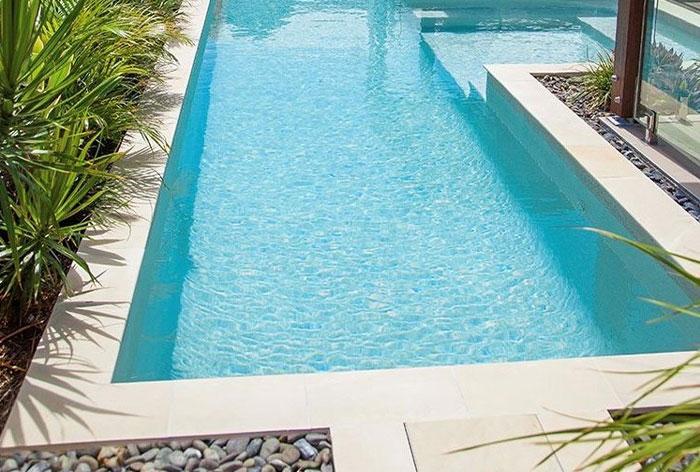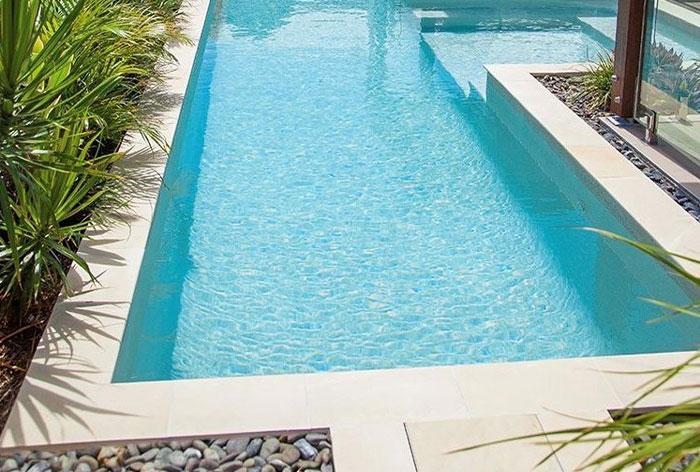 In Skimmer pools, the water surface is 10-15cm (4″- 6″) below the edge of the pool. A skimmer pool design is classic, and it gives you so many options with regards to style and shape. The term 'skimmer' comes from the fact that when water is collected from the openings along the edge of the pool, it is sent to the pump via skimmers. This type is relatively much economical.
The entire perimeter of the pool is surrounded by an overflow channel. The water line is level with the edge of the pool and overflows into this channel. The channel is typically covered with plastic grating. However, in high-end domestic pools, it is becoming more common to cover the drainage channel with tiles or stone for a luxury finish.
This channel then leads into a balance tank. A balance tank is an additional holding tank that sits underground, below the pool level. Water from the overflow channel drains into the balance tank. This water is then fed into the filtrations system, before being pumped back into the swimming pool.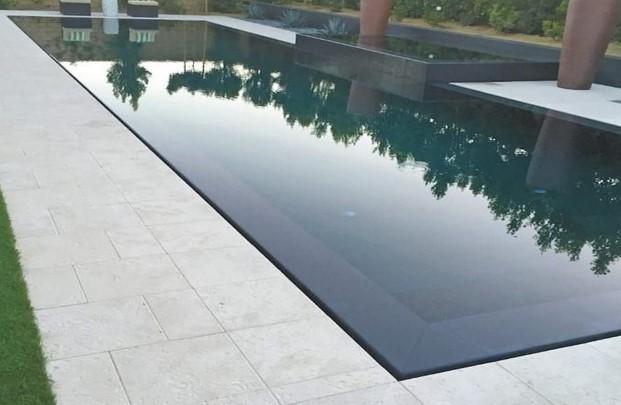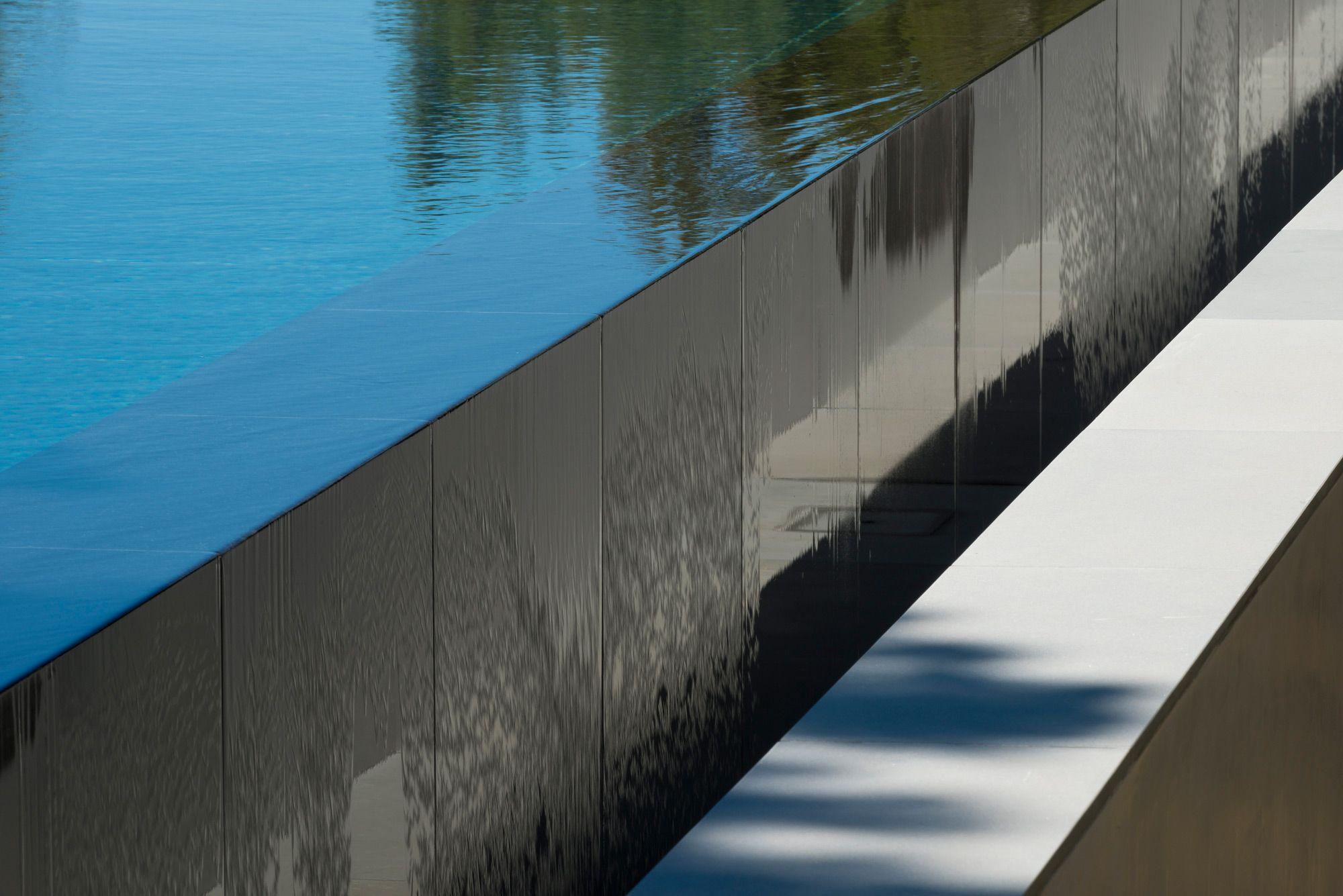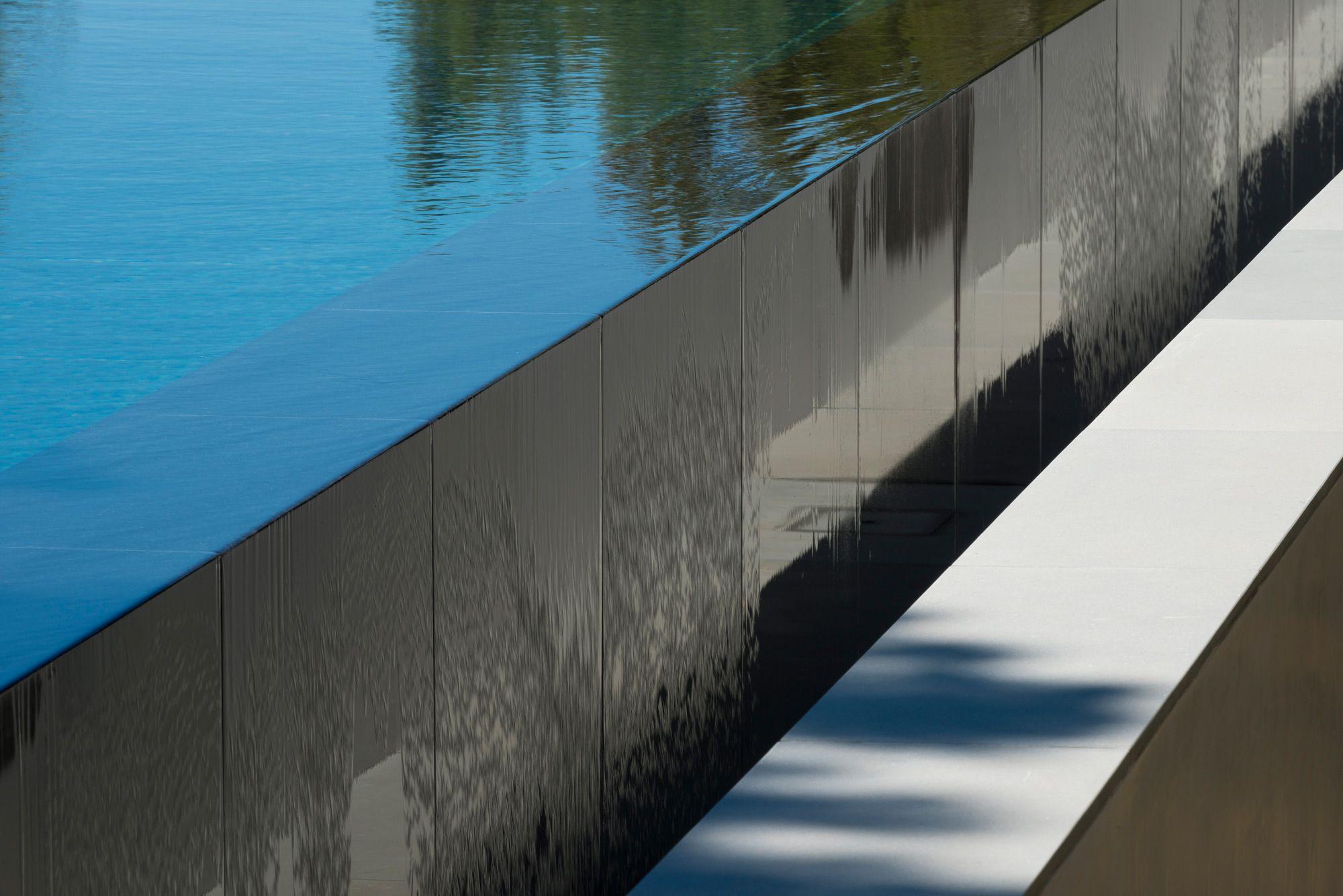 An infinity pool is very striking, giving the illusion that the water has no boundaries. It's particularly effective when the pool is sited overlooking a view or is positioned in an elevated site. The illusion is created by gently sloping the water level away from the pool creating a waterfall into a catch pool which is then recirculated back into the main pool. The catch pool is hidden from view and so it appears as if the water is simply flowing to infinity.
A glass wall is an exciting pool feature that sets your swimming pool different from others. A pool glass wall is a special underwater window. There is no support beam on the top, it is all transparent. This gives the visual impression, that there is not a wall at all.
The pool water just ends vertically. You can look deep into the water from the outside without the distortions that you have on the water surface. It is just a perfect shot for your Instagram when you see a swimmer behind the glass wall – partly submerged, partly above the water.