Landscaping Design Construction Company
Livingacre strives to be a leading landscaping company in Dubai.
We create functional designs that are visually stunning and match your expectations.
Landscaping Company in Dubai
Livingacre strives to be a leading landscaping company in Dubai. We create functional design that are visually stunning and match your expectations.
Our experienced landscape architects understand functionality, beauty and the reality of construction to deliver a unique design which can give a huge transformation to your front and back yard landscapes in Dubai. At Livingacre, which is known as the best landscaping company in Dubai, we take utmost care and ownership in creating a perfect outdoor space for your family that is unique and appealing. Across our entire range of landscape gardening services we work to the highest possible standards, resulting in a finished product and service we can all be proud of.
We the landscape construction company in Dubai, offer modern and environmentally friendly garden landscaping and irrigation system installation. We are committed to develop sustainable and long term relationships with our clients. We achieve this by working in close collaboration with our customers to deliver high quality, value for money grounds maintenance and landscaping services.
Landscaping Design and Construction Company in Dubai
Livingacre offers the best landscape design, construction and maintenance services in Dubai and nearby. With years of experience, we provide high quality landscaping services. Our work always stand unique. We undertake all the tasks  irrespective of their size and do everything with equal importance. We are proud to have the best architects, landscape designers and masons who doing their job with perfection. We are a leading garden landscaping company in Dubai providing the best garden landscaping, designing, garden construction and all gardening services in Dubai.
Our hand-picked team of landscape experts specialize in building beautiful gardens and outdoor areas for private villas in Dubai. You can expect each step of your landscaping project to be completed with care and attention to detail. We will ensure that our garden designers and landscape construction team will keep you updated throughout the project.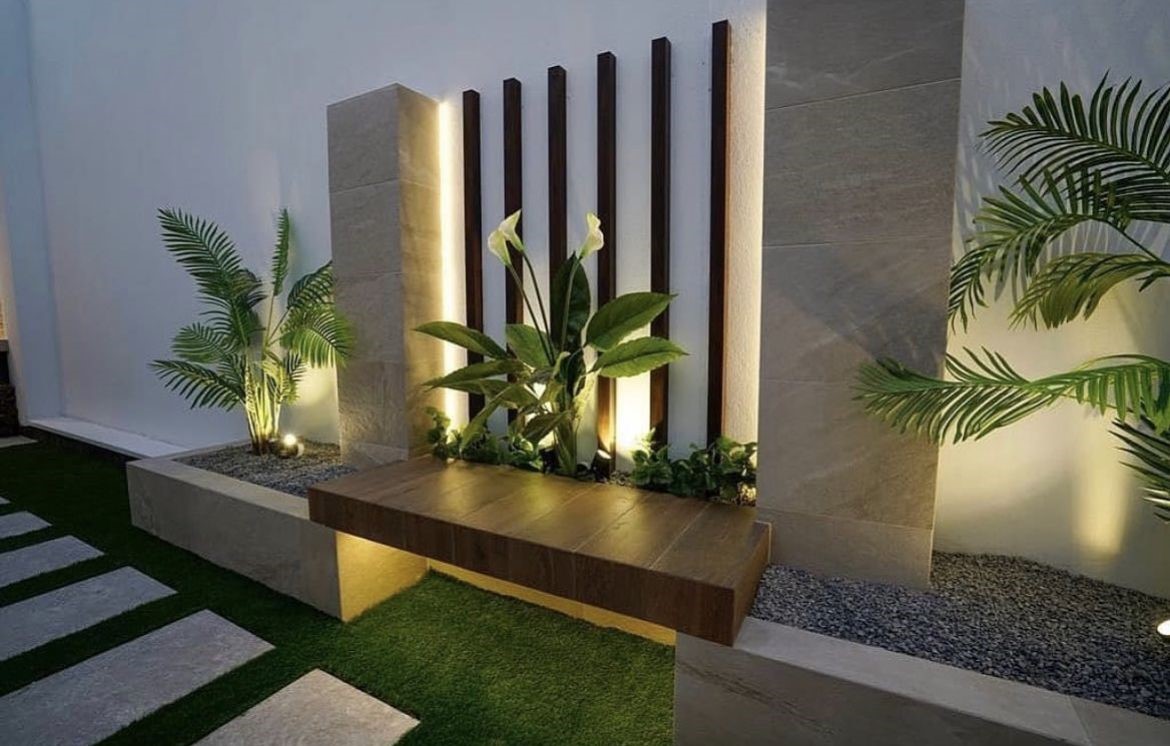 Best Landscape Design Company
Livingacre Pool and Landscape is specialized in design and construction of outdoor landscapes. Our team of professionals has extensive experience in the design of beautiful landscape and stunning outside spaces. We deliver a bespoke garden design service custom made to our client's requirement. Using 3D visuals, our professional garden designers can bring the outdoor design to life. We are an established garden company who can design and build a landscape to suit our client's requirement and budget.
 Villa Landscape Design & Villa Landscaping in Dubai
Livingacre offers the best villa landscaping service in Dubai and UAE. Our landscaping experts have many years of experience designing beautiful gardens for residential villas in Dubai. Livingacre pool and Landscape provides the ultimate landscape solutions. We are among the best landscaping contractors in Dubai. We can combine hard and soft landscaping services for the garden makeover project in order to achieve the significant results.
Soft Landscaping – it includes all kinds of planting, turfing, artificial grass installation, levelling and removal of excess unwanted vegetation.
Hard landscaping– includes all types of garden construction work, such as decking, paving, fence, trellis installation, installation of garden lights.
Professional Landscape Design Companies in Dubai
Livingacre Pool and Landscape is exclusively specialised in designing and constructing landscaping for outdoor living space. From designing the landscape layout to building the entire outdoor space, we are ideally placed to deliver practical and appealing solutions for all landscaping needs for our client's. When designed with vision and style, we create functionality while beautifying the architecture of your home into the outdoor environment. We offer top-quality residential landscaping services in Dubai. Whether we are constructing a private villa, or a larger residential development, we are here to work to fulfil our client's soft and hard landscaping requirements.